Zika: Chinese Flashcards for iPhone
While there are no shortcuts to memorizing Chinese characters, the Clavis Sinica Zika Chinese Flashcards app for iPhone can make an otherwise tedious process more efficient and enjoyable.

Combining the powerful dictionary features of the popular Clavis Sinica software with the portable convenience of an iPhone, iPod Touch, or iPad, this new software helps you learn new vocabulary anytime, anyplace, whether at home, at work, or on the go.
Product Description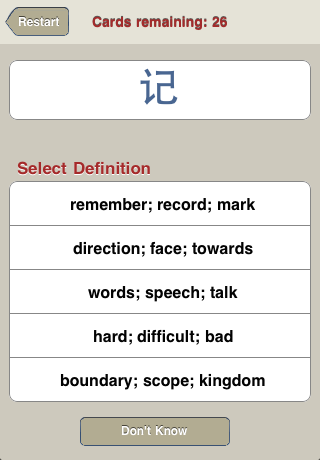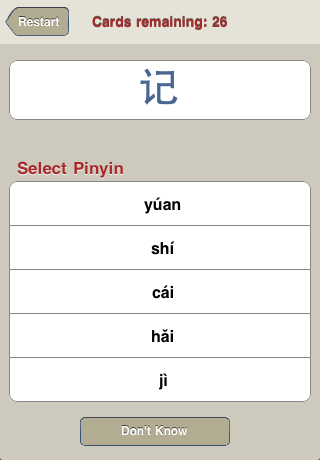 Zika Chinese Flashcards for iPhone is based on the popular Clavis Sinica flashcards tool. The app includes eighteen built-in flashcard decks: Class I characters (the 300 most commonly used characters in Chinese), Class II characters (the next most frequently used 500), Xinhua radicals (the 189 simplified radicals), and 15 theme-based sets of 25 cards each, grouped into categories such as animals, body parts, business terms, countries, emotions, food, and so on.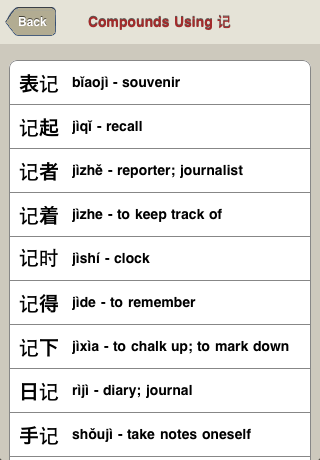 For each card, you are shown a character and asked to select the correct pinyin and English definition from a list of options. Answer correctly and you are shown the next card; answer incorrectly and the correct answer is displayed.
For any character, you can view a list of common two-character compound words using that character, along with their definitions, to help you learn and remember the character's meaning. Likewise, for any radical you can display a list of characters using that radical.
The character cards in each deck are arranged in stroke-count order, so you can focus on mastering simpler characters with fewer strokes before moving on to more complex characters.
Each character card requires only two finger touches on the screen, so you can work through a deck of cards quickly and efficiently.
Feature Summary: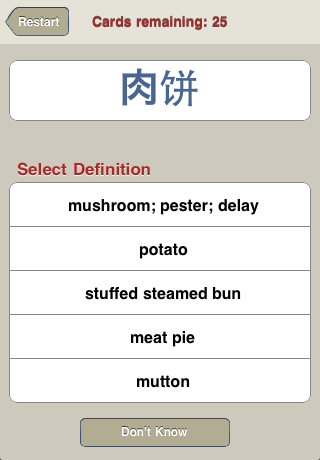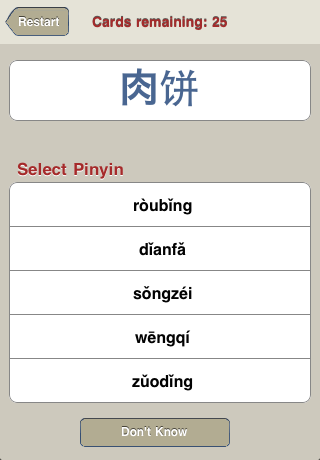 Flashcards include 800 most commonly used characters, 189 Xinhua radicals, and 15 theme-based sets
Usage examples for every character and radical help in learning meaning of unfamiliar items in flashcards test
Characters displayed in simplified or traditional form
User can select subset of any number of cards to drill in a given session
Characters are arranged in stroke-count order, so simplest characters can be mastered first
Each card requires identification of correct pinyin and correct English gloss from randomized lists of options
One-touch iPhone screen interface design makes for natural and effortless flashcard testing
Missed cards automatically reinserted into the deck for further testing
Pinyin romanizations displayed with standard tone marks
Concise, accurate English glosses based on Clavis Sinica dictionary
Works with all iPhone, iPod Touch, and iPad devices
No additional Chinese language software required