Why Clavis Sinica?
Learning to read Chinese is hard. There's no way around that. The Clavis Sinica software, however can make your task a whole lot easier. Here's how: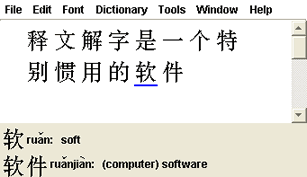 The Text Reader provides one-click access to the pronunciation and meaning of any unfamiliar word in any Chinese document or website. Read the texts you want to read without the need for a print dictionary! (For some good texts to get started with, see our Chinese Text and Audio Library).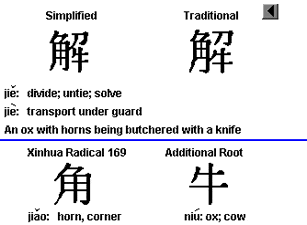 The Analytical Dictionary reveals the underlying structure of Chinese words and generates lists of other words using the same parts. Once you learn why a character is written the way it is and how it relates to other characters in the same character family, it becomes much easier to remember. Of course, you can also search the 40,000-word dictionary by English, pinyin, or character strokes.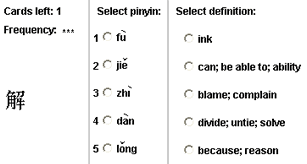 The Vocabulary List Builder helps you create customized vocabulary lists from any Chinese document. You can convert these lists into flashcards for review with the program's powerful built-in flashcards tool. Or you can print them out as study sheets using the free Vocabulary List Converter in our Chinese Toolbox.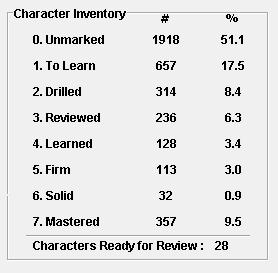 The Character Inventory Manager helps you keep track of all the Chinese characters you have learned. It records when you last saw them as well as how thoroughly you've mastered them, and then schedules them accordingly for daily flashcard review sessions. Characters you have just learned and those you have trouble with are drilled more often, while those that you get right every time you'll see less frequently. You can view your personal Character Inventory statistics at any time to measure your progress.